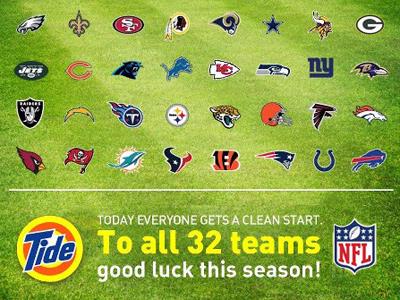 Clean, crisp, and colorful.
That's how I like to describe the creative and collaborative approach that Tide has taken in its sponsorship of the National Football League draft.
The recent draft in New York featured a beautifully orchestrated marketing campaign on Twitter that was fan and customer-centric.   
Pulling together all of the elements to make the campaign pop, Tide focused its theme on colors, and what they represent to fans, communities, teams, and players alike.
The detergent company, owned by Procter & Gamble, got buy-in from one player on each of the league's 32 teams. According to a press release from Tide, designated players—dubbed 'Tide Color Captains'—served as real-time photojournalists during the draft.
"I know from personal experience that our fans make our team better, get us pumped and give us that extra edge out on the football field," said Drew Brees, quarterback for the New Orleans Saints. "There's nothing better than pulling up to our stadium or running out of the tunnel and seeing that sea of black and gold. It's something that every player loves. That's why I've partnered with Tide, to show fans how much we appreciate their support and dedication."
As fans and supporters proudly displayed their team colors, Tide brings us back to the clarity, vibrancy, and richness of celebrating (clean) colors and the big moments that make up big events.
Those following the draft and picks—and the Tide campaign—spent a good part of the evening on Twitter, engaging with @TideNFL and #ourcolors.
The multi-year sponsorship that Tide secured with the NFL in 2012 proves that when brands pluck themselves out of the marketing mix and allow the public to be front and center, there's nothing better than building momentum organically.
A press release on NFLCommunications.com states: "Tide's NFL sponsorship allows us to tap into the huge passion America has for the NFL and the emotion that more than 180 million fans have for their favorite teams," says Sundar Raman, North America Fabric Care Marketing Director at P&G. "The NFL is the ultimate test for a laundry detergent and we're proud that our brand is one the equipment managers trust to keep uniforms clean."
Finally, I couldn't resist ending this post with this observation: Looks like this marketing and advertising campaign has passed with flying colors.
(Image via)