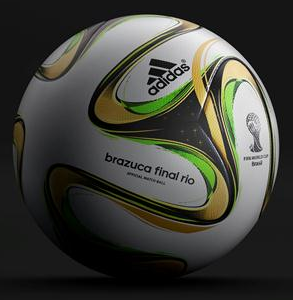 The 2014 World Cup is just around the corner, and there are some creative digital forums that sponsors and advertisers are beginning to launch.
The world's largest sporting event kicks off in Brazil's capital city of Sao Paulo on June 12, and runs through July 13.
One sponsor, Budweiser, has created a microsite to serve as a hub for a weeklong series of events and content. The 'Rise as One' platform assures that digital media takes center stage over traditional advertising.
"On top of TV and the more traditional [parts], digital is the lead component of this campaign," Ricardo Marques, Budweiser's global advertising director, told Adweek. "One of the things that we wanted to ensure was that we understood the specifics of each platform and made sure that we have content tailored to each platform."
Adweek's Lauren Johnson writes that during the games, Budweiser will use Twitter Cards to let fans vote for their favorite players, called the FIFA Man of the Match.
"The beer brand will then award a player after every match and will buy Promoted Tweets to drive traffic to the content. Promoted Posts will also be used on Facebook that direct consumers to the campaign's microsite to vote," explains Johnson. "As far as video, the campaign includes two Web series that Budweiser has created with Fox Sports and Vice. The Fox Sports content spans 80 countries for a global push, and the Vice video includes a six-part documentary series."
Over at Coca-Cola, the company's largest advertising campaign in its history comes to fruition at the 2014 games. A special logo for the World Cup has been designed by James Sommerville,  VP-global design. He first sketched out the 'World's Cup' logo on a napkin in a restaurant. The logo will be the cornerstone of the campaign, which runs in 175 markets.  "We give the markets creative freedom, but actually they're all working off the same ingredients," says Sommerville.
While Budweiser and Coca-Cola are official World Cup sponsors, this tidbit just caught my eye. MarketingLand.com reports that Nike, Samsung, and Castrol are dominating the social video playing field. "That's according to a report by video metrics firm Unruly, which ranked brands by the total number of shares their World Cup-targeted videos have received on Facebook, Twitter and blogs."
Nike and Samsung are not sponsors, so it will be interesting to watch how their respective campaigns evolve.
Martin Beck explains on MarketingLand.com: "As of May 22 when the snapshot was taken, Nike led with 1.28 million, and Samsung (971,504) and Castrol (962,206) had just shy of a million. Fourth-place Coca-Cola was way back with 353,067."
In addition to videos and promoted Tweets, other brands are including Google+ Hangouts and gaming in their media and marketing efforts.   We must not forget mobile.
Let the games begin!
(Image via)