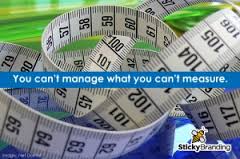 Too many marketing, branding, and advertising pros are going into social campaigns with a lot of information, but are confused when asked the following fundamental questions:
Why are you conducting this social media campaign?
How will you know if it's a success?
Yes, these may seem like rudimentary questions, but the answers must be extremely clear to every single member of your team…before the social campaign gets underway. As business leader Napoleon Hill said in the 1940s, it's all about definition of purpose.
This takes us beyond just watching the number of followers or likes that have accumulated on Facebook or Pinterest. These tallies are good for our egos but they fail to bring the conversions that are at the heart of marketing campaigns, the conversions that drive revenue and business.
It's time to look deeper into three aspects of the data that is available to us:
Know the value of a visitor. How long does a visitor stay on your website or blog? What was their point of entry and where did you lose them? A person who is on and off the page in 12 seconds cannot be quantified the same as a return visitor who spends 1.5 minutes on your site and registered for a free catalog or white paper.
Look at where your paths cross. By fully understanding consumer behavior, you will be able to pinpoint where your brand intersects with consumers. How did the consumer find you? Was it a search engine, link from another site, or a referral from a trusted friend? Marketing and branding professionals must have access to data (and understand it) as it relates to consumer habits across content, social, mobile, and search.
Disseminate information quickly. Real-time analytics will prove vital to your campaign as data enables you to listen, react, and respond in just moments. Certainly this is important in customer service as consumers take to social channels to air their delight or disgust with a brand, product, or service. But, companies that use free tools such as Hootsuite, Tweetdeck, and BrightEdge, can monitor keywords and multiple social channels to engage with the public as conversations unfold. Consider it a softer side of customer service.
We are living in the age of the connected consumer.
We must be able to dissect the information that's going on inside the data.
According to best-selling business author Seth Godin: "The essence of marketing today is to tell a story to people who want to hear it, in a way that resonates with them so they are likely to either respond or connect to you, or tell their friends."
(Image via)